Monthly Meetings

Topic and Speaker:
"An Inside Look at the Customer Discovery and Product Development Process" with Kayla Matheus, Founder and CEO of MOTI.io

When:
Wednesday, July 12th from 6:30pm to 9pm

Where: 
Oshman FJCC
Cultural Arts Hall - fourth floor
3921 Fabian Way
Palo Alto, CA 94303
Map

Agenda:
6:30pm - Registration/networking
7:30pm - Presentation
9pm - Wrap-up/networking

Registration:
Free for SVPMA members
$30 for non-members who register before the day of the event
$40 for non-members who register online or in person on the day of the event
** Credit cards only - no cash or checks accepted at the door

Summary: 
How do you build a product when you do not yet know who your customer is?  How do you know what the right level of "MVP" is?  How do you balance design and engineering when times and resources are tight?  These are some of the challenges of building something out of nothing.  Come hear the origin story of MOTI, a Bay area startup building physical and digital bots to help users build wellness habits.  Complete with the ups and downs of customer discovery, initial prototyping, beta testing, and going to market - MOTI has been built using principles from human-centered design, the lean startup, and behavioral science.  Hear from MOTI's founder, a mechanical engineer and designer, what inspired her to join the startup world and how she started that journey.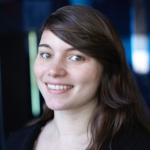 About the Speaker:
Kayla Matheus is the founder and CEO of MOTI.io, and is a designer, engineer, and entrepreneur.  Since her days as a double major in art and mechanical engineering at Yale University, she has always been a wearer of many hats.  Starting first in design education, Kayla helped shape the formation of the Yale Center for Engineering, Innovation, and Design and then went on to become a Fellow with Design for America.  She has experience mentoring dozens of design projects at the collegiate level, including teaching design thinking at Northwestern University and winning a Core77 award for a process guide on human-centered design.  Transitioning into industry, she has worked both at the small consultancy and large corporation level in the consumer product and health spaces.  Now Kayla is fully enthralled with her next career chapter: building a product and startup from the ground up.
Note:  Event fees are non-refundable and non-transferable.  Registration is free with the $110 annual membership covering 12 events.  Enroll or Renew your annual membership now!  Check out the benefits of membership.