Monthly Meetings

Topic:
Branding for Builders


Speaker:
Gibson Biddle, former Netflix/Chegg VP/CPO


When:
Wednesday, December 6th from 6:30pm to 9pm


Where: 
Oshman FJCC
Cultural Arts Hall
3921 Fabian Way
Palo Alto, CA 94303
Map


Agenda:
6:30pm - Registration/networking
7:30pm - Presentation
9pm - Wrap-up/networking


Registration:
Free for SVPMA members
$30 for non-members who register before the day of the event
$40 for non-members who register online or in person on the day of the event
** Credit cards only - no cash or checks accepted at the door


Summary: 
In this talk you will discover how exceptional teamwork between marketing and product can create a hard-to-copy strategic advantage, learn now Netflix built a product and brand that nearly 100M people love today - and some of the big mistakes they made along the way, as well as learn two positioning and branding models and how to apply them to your company and brand.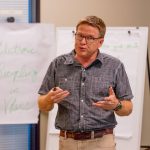 About the Speaker:
Gib was VP of Product at Netflix starting in 2005 and in 2010 become Chief Product Officer at Chegg, the textbook rental company that went public in 2013.  Gib is currently a teacher at both Stanford and Dartmouth graduate schools and is an Executive-in-Residence of Product and advisor at a half-dozen consumer tech startups.

Note:  Event fees are non-refundable and non-transferable.  Registration is free with the $110 annual membership covering 12 events.  Enroll or Renew your annual membership now!  Check out the benefits of membership.