Posted on | December 15, 2014 | Comments Off on December 2014 Event
"Shifting to an Experimental Mindset: The Dos and Don'ts of Hypothesis Testing" with Teresa Torres, Product Consultant & Coach, former CEO
By Lisa Rathjens
"Wisdom is the balance between knowledge and doubt." It's not often that product managers are encouraged to actively question their confidence in their own product ideas. But doubt is exactly what product managers need more of, according to Teresa Torres.
Teresa is a product coach who helps teams adopt user-centered, hypothesis-driven product development practices. On Wednesday, Dec 3rd, she challenged a packed room at the Oshman Jewish Community Center in Palo Alto, CA, to make doubt the center of their product management practice. Reminding the audience that pure confidence in a idea does not make it a successful one, she encouraged everyone to get uncomfortable, to step out of their "coherent stories", and to challenge core assumptions.
Torres believes hypothesis testing is critical to the success of any product. As product managers, we need to keep the following truths at the center of our decision-making as we experiment to test and validate assumptions:
We cannot predict the future.
We will be wrong.
We do not know what to build next.
We do not know when we can deliver it.
Once you've acknowledged these truths, it follows that you'll need to change your methods to be able to deliver great products. Instead of writing ~50-page PRDs, shift to building products iteratively (agile helps here). This allows you to learn and adjust, based on customer feedback and hypothesis testing. For instance, instead of building 10 features only to discover in the end that just 3 work, it's better to run 10 experiments and then only build the 3 that work. This saves time, resources, and money. So, you see that it's necessary to experiment at the feature level as well as the value-proposition level.
But how do you effectively test a product idea? According to Teresa, there are five components to a good hypothesis. In order to support (or refute) your idea by experimentation, your hypothesis must contain these attributes:
What is the change that you are testing? Be very specific about what your expectations are and what you want to learn from the change.
What impact do you expect the change to have? The expected impact should clearly define what you expect to see as a result of making the change. Be clear ahead of time with what measures you will use to gauge success.
On whom do you expect it to have the most impact?  Only test your hypothesis on those that you want and expect to impact.
How much of an impact is needed to be successful? For instance, if you need a 25% conversion rate and your tests show you'll only reach 19% conversion, then you cannot claim success.
How long is the testing window? Your testing window cannot be arbitrary, or you might be fooled by false positives. Specify your test duration before you begin your testing and stick to it.
 Then, when you set up your tests, be sure you can answer these questions:
Is your expected impact specific and measurable?
Can you clearly explain why the change will drive the expected impact?
Are you testing with the right population?
Did you estimate your targets based on something specific?
Did you use a duration calculator?
These are the first steps toward successful hypothesis experiments, and ultimately toward more successful products.
Lisa Rathjens focuses on designing and building products and services that encourage and enable developers to build experiences that people love to use. She can be reached at lrathjens@yahoo.com and http://www.linkedin.com/in/lrathjens
Posted on | November 18, 2014 | Comments Off on November 2014 Event
"The Usual Suspects: Solutions Beneath the Surface of Organizational Chaos" with Dr. Gary Katzenstein, Haas School of Business at UC Berkeley
By Pushpa Chandrashekaraiah
Dr. Gary Katzenstein from the Haas School of Business at UC Berkeley discussed his framework of The Usual Suspects by going over a case study about the United States Mint.  (For details of the case study, please see this written summary or this podcast.)
It is crucial to solve organizational problems simply and quickly.  Usually, organization leaders try to analyze processes in place, approve bigger budgets, and try to implement technology to solve issues.  However, these three approaches may not actually help solve the problems in the long run. Read more
Posted on | September 15, 2014 | Comments Off on September 2014 Event
"Getting Products out from under the MIDDLE of the Bell Curve and Exceeding Expectations" with Preston Smalley, Executive Director, Product Management, Comcast
 By Dan Galatin
Preston opened by discussing specific techniques and practices for producing excellent products rather than mediocre ones. He began by describing his experience helping to create the first app for Read more
Posted on | August 25, 2014 | Comments Off on August 2014 Event
"Is Product Management Obsolete?" with Rich Mironov, Agile product management expert, start-up exec, author, B2B software guy at Mironov Consulting
By Helene Eichler
Rich Mironov delivered a provocative, insightful and entertaining discussion on the "true" meaning of the product management role at SVPMA's August 6th, 2014 event. Rich boldly stated, "The challenge of Product Managers is that others can define what we do.  We don't need Product Managers doing Lean or Agile. These methodologies don't replace the lashing and slashing we do as Product Managers." Read more
Posted on | August 3, 2014 | Comments Off on July 2014 Event
Better Strategic Product and Business Decisions for Complex Global Markets with Liesl Leary, Director of Marketing at SDL
by Lisa Rathjens 
When product managers think about bringing their products to global audiences, translation of the product content is of first importance.  This is an expensive endeavor, but generally well understood and straightforward.  However, for a product to be successful in a foreign market, is translation of content enough? Read more
Posted on | June 22, 2014 | Comments Off on June 2014 Event
"Extending Agile Practices to Large Distributed Teams" with Luke Hohmann, Founder and CEO, Conteneo
By Dan Galatin
Luke Hohmann, Founder and CEO of Conteneo, presented at the June 4th meeting of the SVPMA.  Mr. Hohmann discussed powerful techniques Read more
Posted on | May 27, 2014 | Comments Off on May 2014 Event
Walmart's Agile Journey: How we scaled from 1 to 135 Agile Teams with Kamal Manglani, Sr. Mgr. & Agile Lead and Dawn Marshall, Sr. Product leader Health and Wellness, Walmart Labs GeC
by Lisa Rathjens
When most of us think of Agile engineering processes, we think of software development, Scrum, Kanban, and software sprints. But at Walmart Labs, Agile is far more than a software development methodology. It is a mindset, a cultural value of cross-functional teamwork, and a new way for an entire business to approach its day-to-day work. Read more
Posted on | April 23, 2014 | Comments Off on April 2014 Event
"3 Tools to Increase Your Productivity Immediately" with Senia Maymin, Ph.D, Profit from the Positive, LLC
By Tej Ravindra
April's SVPMA speaker was author and executive coach Senia Maymin. Senia outlined and taught three tools that we can apply right away to increase productivity in both our professional and personal lives.
The key points that she addressed were: How can we influence better, How to better align everyone in the same direction, and How to spend more time in Strategy. Read more
Posted on | March 17, 2014 | Comments Off on March 2014 Event
"Elevating from Consumer to Mission Critical Value" with Brian Cox, Senior Director of Marketing for Enterprise Solutions, SanDisk
By Clara Kuo
High tech companies – just like people – are often are trying to reinvent themselves, and often the change is seen as necessary to stay relevant in the marketplace.
Posted on | February 20, 2014 | Comments Off on February 2014 Event
"Innovation investment Strategy and Product Portfolio Optimization" with Jeff Lash, Research Director/Product Management, Sirius Decisions
By Helene Eichler
Jeff kicked-off an insightful discussion highlighting that many companies struggle with funding new product innovation and often lack a "structured strategy" for selecting investments that fuel successful business. Two astounding findings he shared:
34% of companies reported that 25% or more of their total product investment is spent on offerings that never make it to market
56% of companies reported that over half of their new offerings fail to meet the desired performance and financial targets
 Since innovation investment decisions, portfolio optimization, and new product introduction/go-to-market processes are linked, Jeff recommended key stakeholders first ask four key questions:
What areas should we invest in, how much should we invest and how does this align with our strategy?
Within each area, which specific investments should we choose?
How can we best innovate and bring them to market?
Once an offering is in the market, should we enhance, maintain or sunset it?
What areas should we invest in, how much should we invest and how does this align with our strategy?
Within each area, which specific investments should we choose?
How can we best innovate and bring them to market?
Once an offering is in the market, should we enhance, maintain or sunset it?
 To tackle Question 1. What areas should we invest in, how much should we invest and how does this align with our strategy? He introduced us to the Sirius Decisions Innovations Strategy Framework.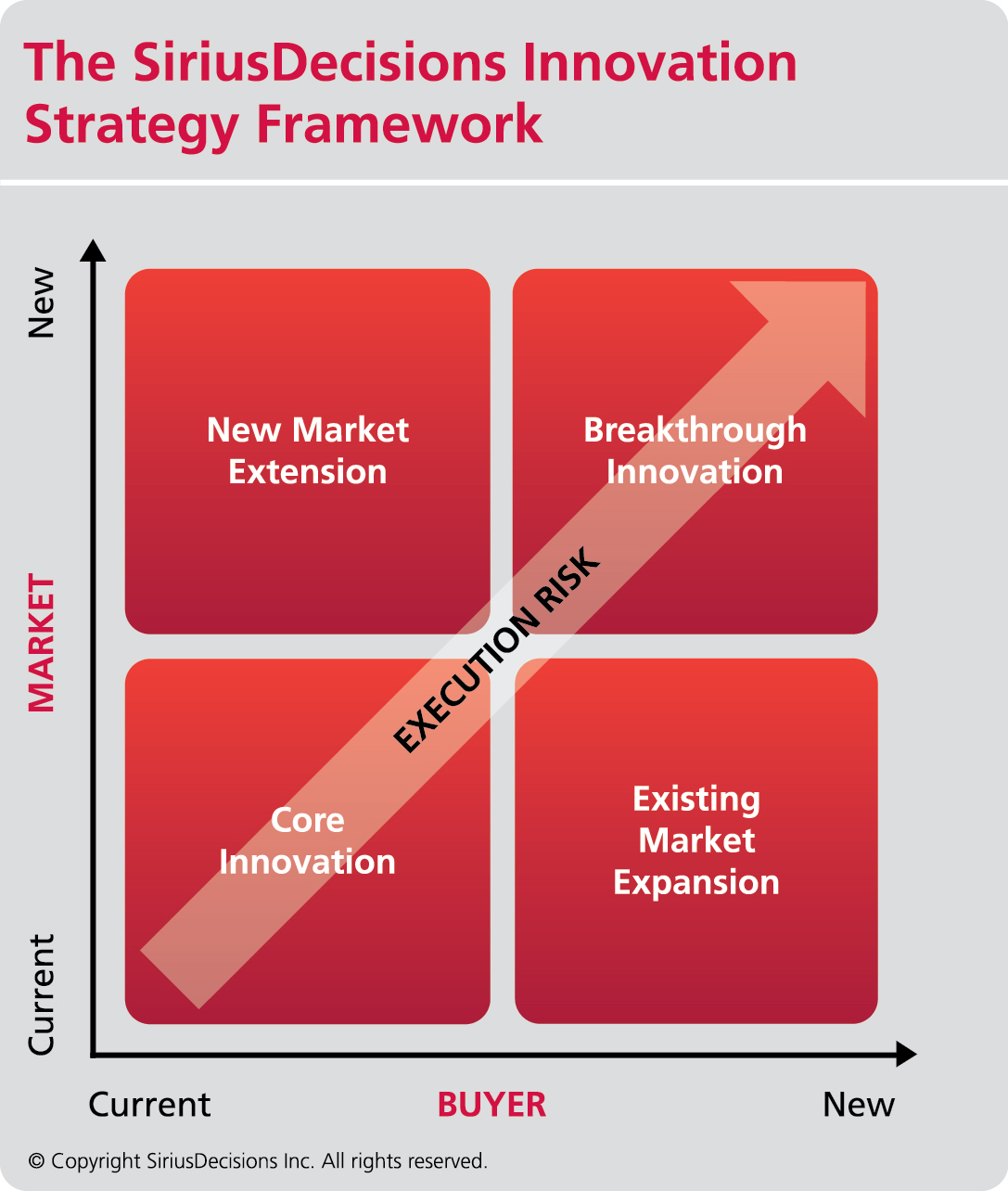 The framework looks at four criteria:
New Market Extension
Breakthrough Innovation
Core Innovation
Existing Market Expansion
from a current and new Markets (Industry, Geography, Company Size), and current and new Buyers (Buyers' Persona, Line of business, Budget Line) view. Once you define markets and buyers, you are ready to map potential product investment opportunities based on quadrant and size; but at this point don't evaluate or rule any out. Jeff emphasized that identifying where your products map to this framework helps clarify what is feasible and reveals potential gaps. 
The next logical step is to identify gaps in the buyer needs vs. your current product portfolio. Based on market opportunity and targets data, you'll identify where and how much investment would be needed. This gap analysis looks at three factors:
Identifying Market Opportunities
Defining the Buyer Need
Identifying the desired solution
Done right, market opportunity identification should guide investment allocation across innovation types based on growth potential.
So that leads us to question 2. Within each area, which specific investments should we choose?
Selecting the winning prospects requires:
Choosing the right criteria (Selecting investments that align with your corporate strategy)
Evaluating your ability to win in those markets (market entry timeframe, your potential marketshare, total market size)
Looking at the fully loaded cost (Not only development, but sustaining and supporting)
Invest dedicate resources to innovative offerings wisely. So a mantra Jeff shared with attendees was "Part of Innovation is deciding what not to do!"
Now that you've selected prospective new product initiatives, the challenge is answering question 3. How can we best innovate and bring them to market?
To optimize these investments…
Establish Clear KPIs and Metrics Prior to Launch
Choose Predictive Metrics as Early Performance Indicators
Review Metrics Regularly (at Least Monthly)
Shift Resources, Budgets and Priorities to Stay on Track
Make Small Bets and Test in the Market
Adjust and retest in the Market as needed
A common mistake many companies make is not coordinating their investments in developing and enhancing products with their marketing and sales budgets.  But best-in-class companies proactively evaluate and approve the full investment required to build, launch and support the product. Once the product exists over time in the market (that's why we call it a product lifecycle), question 4. Should we enhance, maintain or sunset it? needs to be addressed. By looking at the product through strategic, financial, market and commercial lenses you see if the product continues to: Align with corporate strategy, meet financial KPIs, satisfy buyers' needs and achieve profitability goals.
To make this work Jeff recommends implementing the following 7 action items:
Determine strategy for desired markets and buying centers and align with corporate strategy
Map market opportunities to the Innovation Strategy Framework
Identify portfolio gaps that prevent current offerings from meeting market goals and use this analysis to guide investments
Ensure marketing and sales input into business cases so that they reflect full costs to support an offering throughout its lifecycle
Leverage a best-in-class process to interlock product, marketing, and sales throughout the innovation and go-to-market process
Review portfolio regularly to avoid overcrowding and confusion
Play a lead role in lifecycle investment decision-making, and carefully plan the execution of changes (e.g. end of life)
For further details on this SiriusDecisions Innovation Strategy Framework research brief check-out http://go.siriusdecisions.com/innovation_strategy
 Helene Eichler is accomplished Channel Marketing and CRM professional running HRE Technical Marketing. She develops, executes and manages global marketing projects /programs in the IT, Network Security, Managed Services industries.  As SVPMA's Director of Communications, she is responsible for developing and implementing Communications and Marketing Strategies. Helene can be reached at hreichler@earthlink.net or through LinkedIn http://www.linkedin.com/pub/helene-eichler-capm-pmi-certification/0/43/568